Unicycling
---

CV

Cycling

Recumbents

Unicycling

Juggling

Other Links

---

I first became interested in unicycling through attending juggling conventions. I received my first unicycle, a 20" DM Ringmaster, for my 21st birthday in 1994 and learnt to ride it over a weekend at the Wessex juggling convention.
I enjoy unicycle hockey and mountain unicycling (Muni), have attended several national unicycling conventions and attended the world convention when it came to England in 1996 (see photo below). That was the week I learnt to ride an ultimate wheel.
I built my own ultimate wheel in 1999, bought my second unicycle, a 26" Pashley Muni, at the beginning of 2000 and my third, a 36" Coker for commuting, at the beginning of 2001.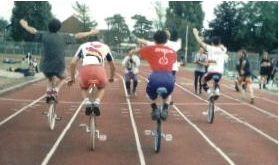 ---
Unicycling Links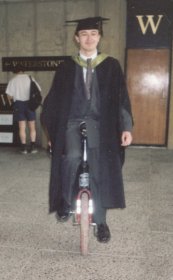 Monocycles
---
Danny


CV

Cycling

Recumbents

Unicycling

Juggling

Other Links


Note on browser compatibility - I hope that this site will be easily accessible in all browsers. If you experience any problems viewing this site, please let me know what the problem is, what browser you're using and, if possible, where I can obtain a copy for testing.