Cycling
---

CV

Cycling

Recumbents

Unicycling

Juggling

Other Links

---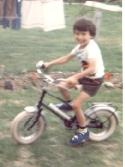 I learnt to ride on the same bike as my mother, all 5 of her siblings, her cousins, my two sisters and quite a few of my cousins (left). They built them to last in those days. I stopped cycling as a child at the age of 13, when my parents bought a house at the bottom of a hill. A lazy teenager, I passed my driving test 3½ months after my 17th birthday and expected never to ride a bike again.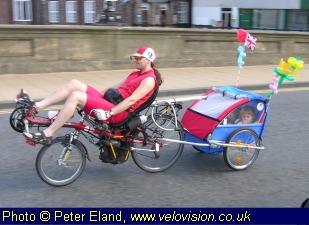 The following year I went to university. I couldn't possibly afford a car and eventually decided that a bike would be the best way to get around. On 2 May 1992 I bought my first adult bike.
I have never owned a car and intend that bikes will be my primary mode of transport for the rest of my life. I still drive occasionally, but can't sit behind the wheel of a car for long without longing to be on a bike.
Cycling Links
FAQs
Cycling Organisations and Events
Magazines
Miscellaneous
Note: This page is no longer maintained. Please don't contact me begging for a link to your commercial site.
---